Android IP Phone apps can get you an alternative phone service on your mobile for little to no money.
An Android IP Phone app allows you to make calls from your mobile phone. You only pay for data usage over 3G/4G. Your mobile phone provider may charge you for a local call.
Currently, Android holds the majority of the smartphone market. Part of the platform's dominance has to do with the wide variety of phones and its availability between the major mobile providers.
It's clear that we aren't as dependent on mobile networks as we used to be. You can receive a data signal in the same places you can receive a mobile signal. People are starting to use Wi-Fi more often as well. Technological advancements have given us the ability to talk to someone over the Internet the same way we would talk to a person over the phone. If you're ready to ditch your mobile network for something that's not only easier to use, but also cheaper and more efficient, here's a list of some of the best Android IP Phone apps  you can use for free or cheap local call.
1.Alaap – BTCL Calling Android App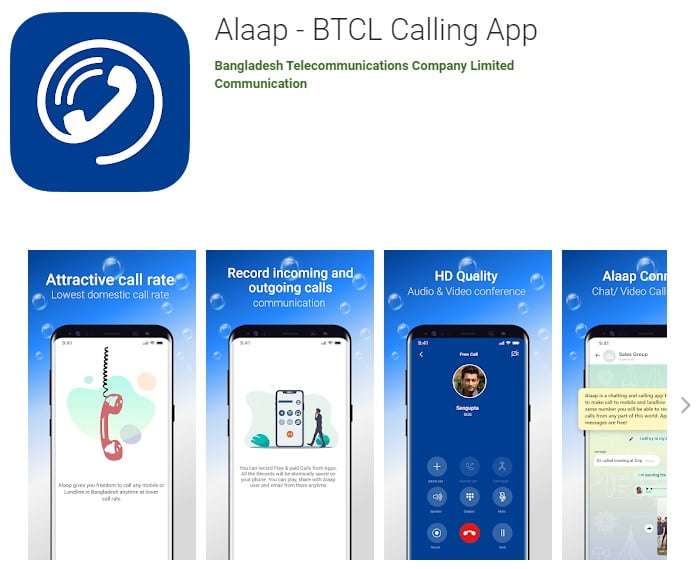 Alaap is completely free. With mobile data plan and Wi-Fi connection, you can contact any one for FREE. You can also make voice calls to any one on who does not have Alaap App installed at a very competitive rate. Ask your friends and family to install Alaap and you will be able to make Audio/video calls and send rich messages.
Staying in touch with your friends and family back home was never this exciting. And affordable. Important features are:
• Your own Alaap Phone number
• Anyone can dial to your Alaap number from anywhere in the world
• Pay BTCL Service bill from Application
• Low cost calls to any phone anywhere in the world
• Supports Bengali language
• Advanced messaging Features
• Video Steaming (Latest movies, Natok, Song Available)
• HD Quality Audio & Video conference
• Earn credit from Refer
• Newsfeed